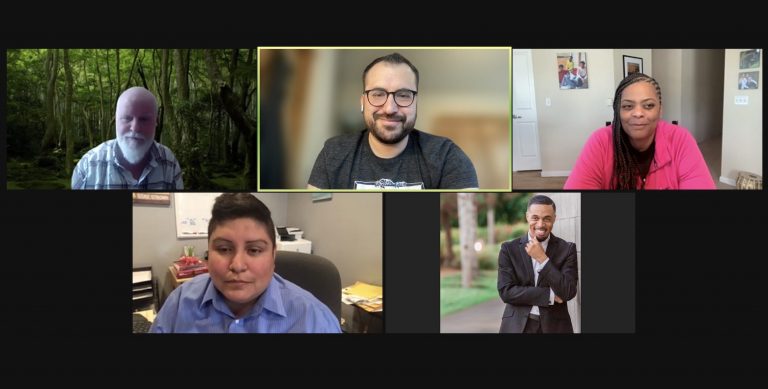 Kindred in Christ,
I feel as though I have come back to life. I am beyond grateful for this community that has been supportive, generous, and understanding as my wife, Kim, and myself have been out of commission for the last couple weeks after contracting Covid. Thankfully, at this point, we have both tested negative and are regaining strength. In the midst of taking it easy, I have been very excited for a collaboration that is emerging with University Gathering UMC and Michelle Lang-Raymond and Sam Townsend from Acts on Stage (pictured meeting with our worship team above).
After a fruitful conversation with Rev. Dr. Leroy Barber on Church Innovation in March during Enrichment Hour, Leroy connected me with Michelle to begin exploring what a collaboration around worship and change would look like in our setting. One of the things Leroy heard that arose from the conversation in our Enrichment Hour session was the need to expand worship to include new elements to better match the time and context we live in and the folks we are presently trying to reach—a struggle for many mainline protestant churches.
Thus, we have been dreaming and planning with Michelle and Sam about ways that they could help us begin to infuse new elements into our Sunday morning worship gatherings. While Acts on Stage has worked and coached other UMC congregations seeking renewal in worship before, this will be the most elaborate partnership they have ever had. In fact, our vision is to record segments of the worship sessions, interview participants and congregants, and create a video resource for our conference and any church seeking renewal. Indeed, other local churches in our conference already look to us as an example for church renewal in the urban setting, because of the moves we have made with our building renovation, updating our name, and our vision to reach and include more diverse people. We view this collaboration with Acts on Stage not only as bringing innovation to our single congregation, but as a process that could be adapted and hosted by other churches.
The worship partnership will kick off during the four weeks of June. Throughout each Sunday morning in June, you can expect to see some of the Acts on Stage folks alongside our worship team working to mix new ingredients into our familiar worship experience. We are still working on promotional materials and an official description for social media, newsletter, and other outlets. We will share more info here and in other spaces, including what our partnership will look life after the four weeks. I am very excited for this collaboration and move of the Spirit! I hope you will join us during the weeks in June and into the future we are collectively being empowered into.
Alongside you,
Rev. Paul Ortiz